I have a 4.5 year old son, so we are CONSTANTLY reviewing colors, shapes, sizes, letters and numbers. I had priced out the sets of magnets for my kids to use on the fridge while learning all of these subjects, but wowwee, they were pricey! So, as I always do, I thought "I bet I could make that for way cheaper. And off to Photoshop I went. I created 8 shapes that my son would learn during his first step of shape-learning (circle, square, triangle, etc). I labeled them so that he could connect the spelling of each of those shapes with the shape itself. Then I made them bright colors so we could also work on our basic color learning.
I then printed them out on my computer and used some sticky-back magnets I had on hand to adhere them to a magnetic surface. Using sharp scissors, I cut around the edges and voila! I had some shaped magnets for the kids! I've also done this with numbers and letters, though those take way longer.
So today I wanted to share my Shapes
These are made large (they will print 1 set per page), but you can easily size them down prior to printing if you want to use them on a business card magnet.
If you want them bigger, like I did, visit
Magnet Valley's Adhesive Magnet Sheet
selection page to purchase.
Here is set one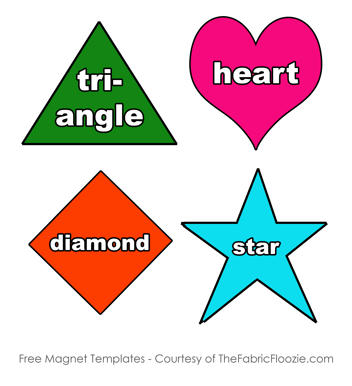 Click here to download Set 1
Here is set 2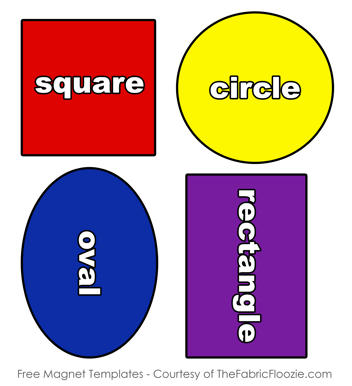 Click here to download Set 2
Enjoy! And be sure to comment on this post if you blog about your experiences with this project! I love to see when other people try what I share :)
courtesy